I updated our press section and figured i'd blog about it too. Feel free to read some of our more recent reviews. Somehow I manage to find the BEST brides and grooms to work with, and I can't thank all my past and future bride and grooms for making my job the best ever. Thank you thank you thank you! 🙂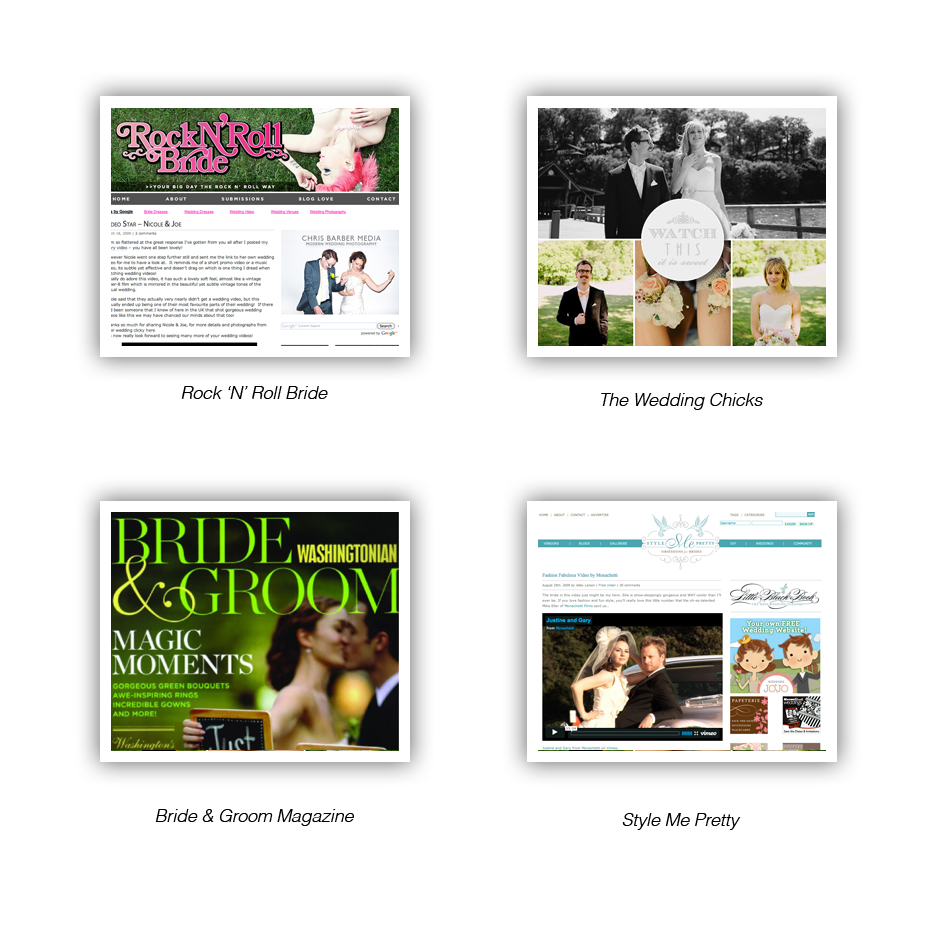 Recent Testimonials:
Van & Eric: "Monachetti consists of professional, passionate, and gifted artists. They pour their heart and soul into their work. They make the biggest day of your life the biggest gig of their lives, and the end result is videography that will take your breath away and bring you back to the most precious moments of your life. I cannot say enough great things about Monachetti. I HIGHLY recommend them and I guarantee you will not be disappointed!"
Alisha & David: "Love, love, love this mans work I have yet to see my video but I am so excited about it. I've seen Michael's work from other weddings and I cannot wait to have masterpiece to call my own! It was a pleasure to work with Michael, I booked him one year in advance and he kept in touch and really worked with me to ensure he captured every moment that was important to us. Michael was present during the ceremony and reception and yet he was able to capture special moments without overpowering the event with a huge camera in our faces at every turn. He has really mastered the fly on the wall technique which enabled him to capture people honestly with out breaking the moment. Michael was a pleasure to work with."
Joanna & Justin: "Michael was the best! He made it very easy to feel comfortable with a camera on me. He did an amazing job filming and he captured everything that was sentimental."
Denaye & David: "Our experience with Monachetti was perfect from start to finish–from the super cool business card Michael handed us when we met him to the perfect videos that came as a result. Michael was a ninja on our April 2010 wedding day. All dressed in black sneaking around so gracefully that no one even knew he was taping. I have been to weddings where the videog/photog are very invasive and I am happy to say he manages this like the pro he is. I originally didn't want to hire a videographer because I did not want to see myself dancing on video. The editing done on the video showed us dancing and cut in and out so well that I actually looked like I have some moves! Our video was posted very promptly and mailed to us in the contracted time. I believe it says we have a few thousand views on vimeo, my husband and I are probably about 1000 of those as we loved the video so much we watched it over and over. The price was very reasonable for the product, he could charge double what he did and I would hire him again! And lastly, Michael is just a cool guy. Hands down our favorite wedding vendor.
Aiyana & Michael: "Our videographer was on time, very friendly and professional. We were impressed by the video. Monachetti has a neat style that reminds us of a music video. Everyone we have shown our video to says they wished they had a video just like ours of their day! We would highly recommend them!"
Michelle and Clay: "Monachetti was great to work with! We couldn't have been more happy with our videos! Michael and Tyler shot and edited everything in the most beautiful, creative, and interesting way possible. Although all of my coworkers are familiar with the Women's Museum, after seeing the video, they asked where I had the reception because Michael and Tyler made it look a hundred times more beautiful. These guys really know how to compose a shot!!! They have also mastered the arts of making your dorky facial expression appear endearing and editing out those moments no one wants to see on video. When I was getting ready, there were several times when I could have strangled my mother and my bridal party, but Michael and Tyler made me look really charming during the whole getting ready process. And, on an embarrassing note, I had several dress malfunctions during the reception, but none of them made it into my video — I couldn't be more grateful to Monachetti for that! Lastly, this doesn't have anything to do with Monachetti's awesome work, but it merits mentioning. When my mom misplaced her diamond earrings, Michael helped us look for them until we found them! These guys are the best. HIRE them!!"
Karen and Gustavo: "We were awestruck! Monachetti's video is so much more than a visual depiction of what happened. It is a work of art that captured visually what the wedding experience felt like for us, which was incredibly intense. Monachetti chose truly beautiful and meaningful content and dispensed with the boring parts, as we're sure there had to have been many. At the event, our videographer was totally unobtrusive, just as one wants the videographer to be. Our interaction through the contracting and booking process was totally problem-free. We can't wait to share the video with our friends and family. We know we will watch it again and again into the future. It's exactly what we'd hoped to receive and more. We will definitely recommend Monachetti highly to our friends and colleagues and we wish them much continued success. Bravo, congratulations on a job exceedingly well done, and thank you."