Press
Since we started making wedding videos, we've had the joy of getting our work featured and reviewed in several different wedding blogs, wedding forums, and other wedding related publications. Below is just a snapshot of a few recent ones.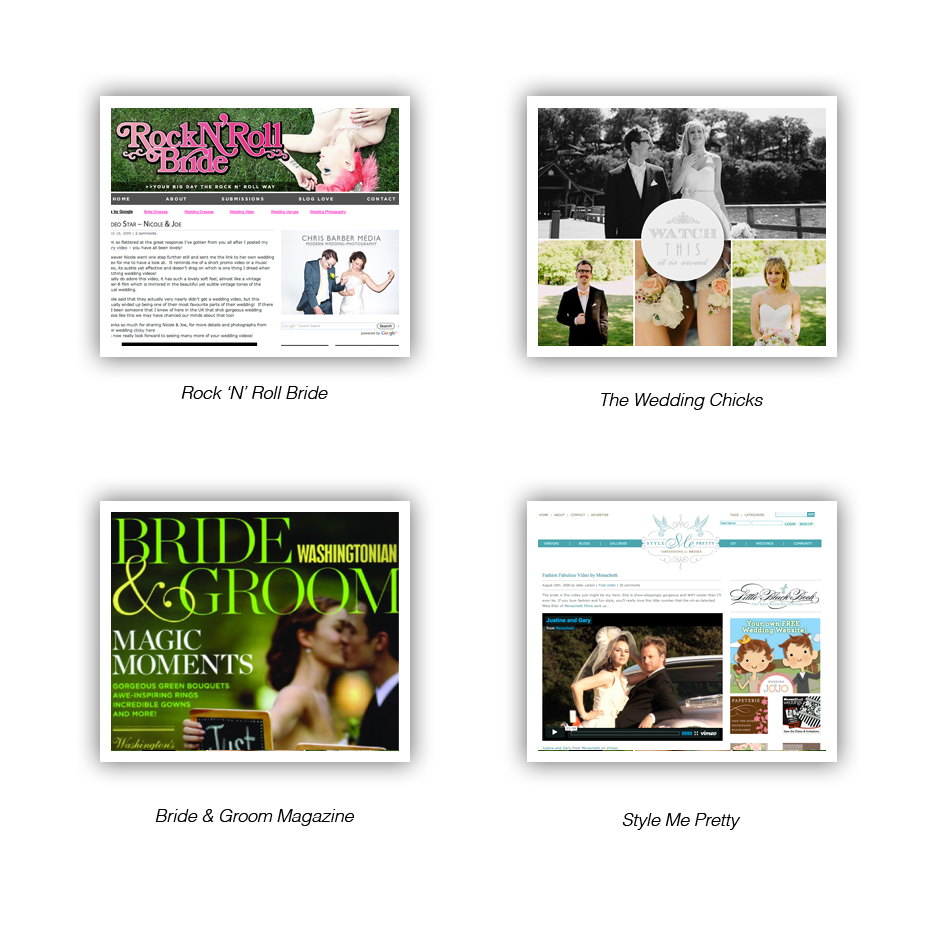 Recent Testimonials:
Mindy and Mark:"We wanted to write you again because this time we've started going through the DVD and can't express how amazed as well as touched we are by what you've done for us. The title screen alone is absurdly awesome and beautifully done. We started watching the ceremony and needless to say, we had to pause it because we were both in tears. We will forever treasure the footage and seeing all the moments we weren't able to see before has been amazing. You better not get sick of us because our thank you notes are going to keep on going

~ Cheers"
Van & Eric: "Monachetti consists of professional, passionate, and gifted artists. They pour their heart and soul into their work. They make the biggest day of your life the biggest gig of their lives, and the end result is videography that will take your breath away and bring you back to the most precious moments of your life. I cannot say enough great things about Monachetti. I HIGHLY recommend them and I guarantee you will not be disappointed!"
Alisha & David: "Love, love, love this mans work I have yet to see my video but I am so excited about it. I've seen Michael's work from other weddings and I cannot wait to have masterpiece to call my own! It was a pleasure to work with Michael, I booked him one year in advance and he kept in touch and really worked with me to ensure he captured every moment that was important to us. Michael was present during the ceremony and reception and yet he was able to capture special moments without overpowering the event with a huge camera in our faces at every turn. He has really mastered the fly on the wall technique which enabled him to capture people honestly with out breaking the moment. Michael was a pleasure to work with."
Denaye & David: "Our experience with Monachetti was perfect from start to finish–from the super cool business card Michael handed us when we met him to the perfect videos that came as a result. Michael was a ninja on our April 2010 wedding day. All dressed in black sneaking around so gracefully that no one even knew he was taping. I have been to weddings where the videog/photog are very invasive and I am happy to say he manages this like the pro he is. I originally didn't want to hire a videographer because I did not want to see myself dancing on video. The editing done on the video showed us dancing and cut in and out so well that I actually looked like I have some moves! Our video was posted very promptly and mailed to us in the contracted time. I believe it says we have a few thousand views on vimeo, my husband and I are probably about 1000 of those as we loved the video so much we watched it over and over. The price was very reasonable for the product, he could charge double what he did and I would hire him again! And lastly, Michael is just a cool guy. Hands down our favorite wedding vendor.
Cat and Chris:"We love how our wedding video turned out! Mike captured the day so perfectly, and the editing with a voiceover of our vows turned out exactly as we were hoping. Mike and Pedro were never in the way on our wedding day, in fact, they were so much like ninjas that I hardly remember them being there. You'd never know how close they were, capturing such poignant moments. They also kept the dance floor footage short in the final edit, so it wasn't embarrassing but you could see everyone having fun. Our families and friends have been blown away by the video, and many a happy tear has been shed watching it. We'll look forward to watching our video on each of our anniversaries. "
Michelle and Clay: "Monachetti was great to work with! We couldn't have been more happy with our videos! Michael and Tyler shot and edited everything in the most beautiful, creative, and interesting way possible. Although all of my coworkers are familiar with the Women's Museum, after seeing the video, they asked where I had the reception because Michael and Tyler made it look a hundred times more beautiful. These guys really know how to compose a shot!!! They have also mastered the arts of making your dorky facial expression appear endearing and editing out those moments no one wants to see on video. When I was getting ready, there were several times when I could have strangled my mother and my bridal party, but Michael and Tyler made me look really charming during the whole getting ready process. And, on an embarrassing note, I had several dress malfunctions during the reception, but none of them made it into my video — I couldn't be more grateful to Monachetti for that! Lastly, this doesn't have anything to do with Monachetti's awesome work, but it merits mentioning. When my mom misplaced her diamond earrings, Michael helped us look for them until we found them! These guys are the best. HIRE them!!"
Here are some more Monachetti Reviews from Wedding Wire.